Presentation of the research results of the "TRI-SOME" Collaborative Research Project in Larissa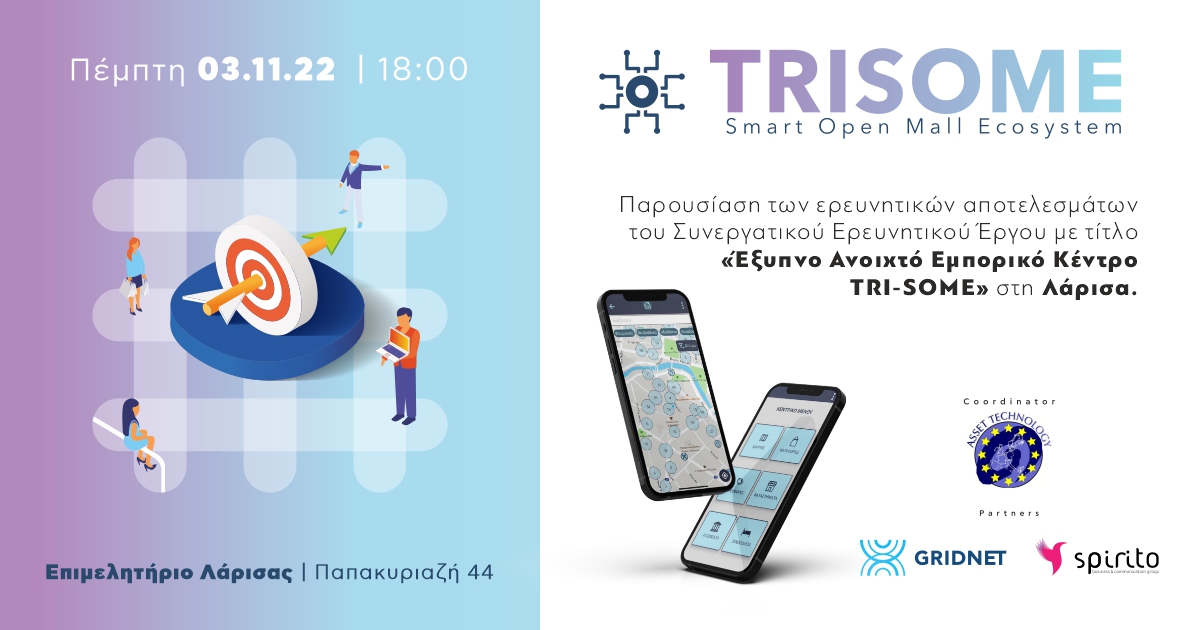 On Thursday, November 3, 2022, at 18:00, at the Chamber of Larissa, the "Presentation of the research results of the Collaborative Research Project "TRI-SOME" and the smart service provision platform for actions of touristic, cultural and commercial interest of organizations and municipalities will take place » in the city of Larissa.
The presentation event will be attended by representatives of the three entities of the collaborative scheme of the project, ASSET Technología, GRIDNET and Spirito Group, who will present the content of the project, the results, the pilot application of the platform and the prospect of its further application in a second year, in different municipalities and shopping centers, both in Greece and abroad.
TRI-SOME is an integrated information system, which provides smart infrastructure services with the aim of providing advanced and efficient cultural and tourist services.
It aims to engage the end user through an integrated application for mobile phones, which includes both the commercial and cultural services of the city, in which he lives or which he visits. In addition, it aims at the easy use of the platform by the commercial stores through an online interface, which will allow them to control and configure the elements and their respective offers.
Accordingly, it will be possible to display them to the users of the application cultural information and the attractions of the area.
TRI-SOME transforms the city into a Smart Open Mall, an Ecosystem of interaction and synergy of all stakeholders.
The project is implemented within the framework of the Action "RESEARCH – CREATE – INNOVATE", which co-financed by national resources (through the EP Competitiveness, Entrepreneurship & Innovation – EPANEK, NSRF 2014-2020) and from community resources (European Union, European Regional Development Fund) (project code T1EDK- 03473).
Information:
https://www.facebook.com/Trisome-109491590924884
https://www.instagram.com/trisome_system/