Presentation of the research results of the Collaborative Research Project "TRI-SOME" at the Chamber of Larissa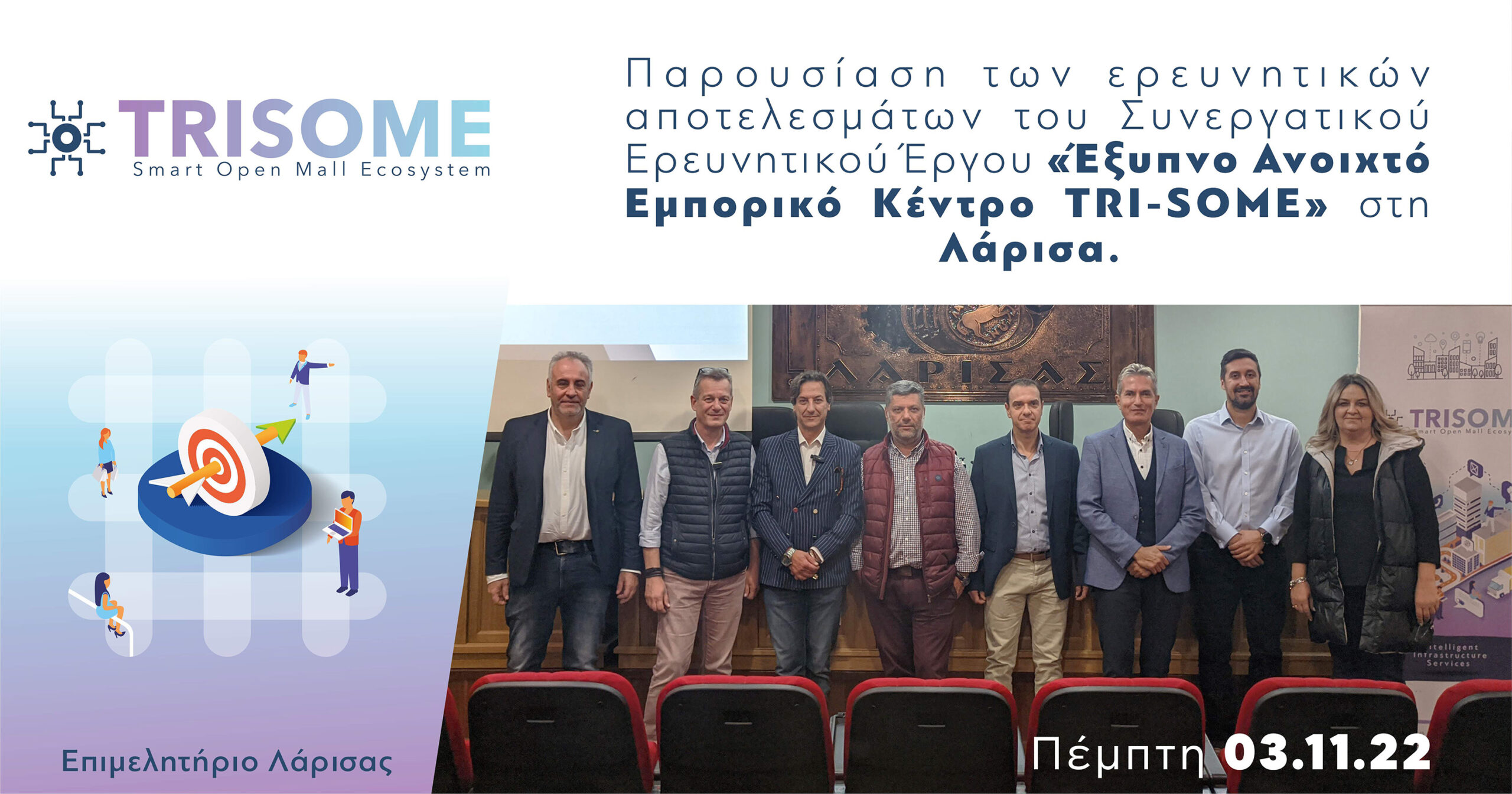 On Thursday, November 3, 2022, at 18:00, at the Chamber of Larissa, the Presentation in the city of Larissa of the research results of the Cooperative Research Project entitled "Smart Open Shopping Center – TRI-SOME" and the smart service delivery platform for touristic, cultural and commercial actions organizations and municipalities of interest".
The event was attended by representatives of the three agencies of its cooperative scheme
project, ASSET Technological, GRIDNET and Spirito Group, who presented the project, the
results, the pilot of the platform and the outlook further its implementation in a second year, in different municipalities and shopping centers.
The Presentation of the project was opened by the Director of the Organization Coordinator (ASSET Technological), Mr. Georgios Kouklakis, thanking the attendees for their presence and their interest in the new application, created as part of the research project "TRI-SOME". Mr. Kouklakis presented the project and its pilot application to the Municipality of Trikkaia, while he did not fail to mention the need to serve the project at the level of integrated personalized tourist, cultural and commercial service leveraging existing smart city infrastructure and Open Trade Center business models.
The presentation of the results of the project continued from the company's side GRIDNET A.E., member of the collaborative project scheme and the Director of Research & of Technology, Mr. Donato Stavropoulos. Mr. Stavropoulos developed all of the of services provided by the "TRI-SOME" platform, both for its administrator application, participating stores as well as for end users. The presentation concluded with reference to the role of Artificial Intelligence and Engineering Learning (AI & ML) in project implementation.
Finally, the dissemination and publicity actions of the project and its results, with for the purpose of informing and mobilizing the end users of the platform, explained Mr. Christos Geniseftsis, Administrator of the Spirito company, which also participates in cooperative scheme of the project. Mr. Yenicheftsis presented the vision of the cooperative scheme and the prospects of further application of the platform "TRI SOME" secondarily, in different municipalities and commercial centers, both in Greece and in abroad.
The President of the Larissa Trade Association, Mr. Charalambos, attended the presentation Papadopoulos, the President of the Elassonas Trade Association, Mrs. Bagiota Chara, the
President of the Trade Association of Agia, Mr. Athanasios Chavdas, Mr. Georgios Tsiaples, member
of the Administrative Committee of the Chamber of Larissa, as well as representatives of the local
market, with whom a substantial dialogue on the outlook developed implementation of the platform in the city of Larissa.
The project is implemented within the framework of the Action "RESEARCH – CREATE – INNOVATE", which co-financed by national resources (through the EP Competitiveness, Entrepreneurship & Innovation – EPANEK, NSRF 2014-2020) and from community resources (European Union, European Regional Development Fund) (project code T1EDK- 03473).
Information:
https://www.facebook.com/Trisome-109491590924884